With effective from 1 June 2022, the Government introduced a subsidiary legislation, the Small Unmanned Aircraft Order (SUA Order), under the Civil Aviation Ordinance (Cap. 448). All remote pilots and responsible persons (e.g. owners, operators etc) are encouraged to get prepared for upcoming legal requirements such as registration, labelling, awareness/training, insurance, CAD's prior permissions etc. Borrower is advised to read the details in Civil Aviation Department's webpage (https://www.cad.gov.hk/english/sua.html).
Dji Drone (More Expensive Semi-professional Model)
equipped with 4K camera
approx. 30 minutes max flight time
dual rear vision sensors in real time
create a 3D model of the environment
Notes to Borrower of Drone
The borrower of drone must follow strictly the guidelines on "Safety in Radio-Controlled Model Aircraft Flying" provided by the Civil Aviation Department of the HKSAR Government.
"Recklessly or negligently causing or permitting a model aircraft to endanger any person or property is liable to prosecution."
DO NOT:

Fly over populated and congested area
Fly over or close to any object or facility which will cause safety risk by the drone
Fly into airport areas or aircraft paths
Fly beyond 300 feet (90 metres) above ground level.

All operations must be for recreational purpose only and not for reward.
Fly during daylight hours only.
Drone flights are not allowed on EdUHK Campus.
The borrower must read carefully the drone user manual and follow all instructions provided in the manual. Additional safety tips provided by the drone manufacturer can be found at: https://www.dji.com/flysafe?site=brandsite&from=nav
Areas restricted for flight by the drone manufacturer: https://www.dji.com/flysafe/geo-map
The borrower must register as a remote pilot on the eSUA platform.
The borrower must attend a briefing session on "Using Small Unmanned Aircraft" or fulfilled other related requirements, and complete a test.
The borrower must follow the Library's instructions on keeping flight logs.
The borrower must sign an undertaking at the Circulation Counter.
Advanced booking is required.
Accessories
Main Body with Gimbal
Remote Controller
User manual
Propeller x 4
Sony SD Card UHS-1 U3 16GB for 4K
USB type A to USB mini AB
Battery Charger
Battery x 3
Multi-functional Backpack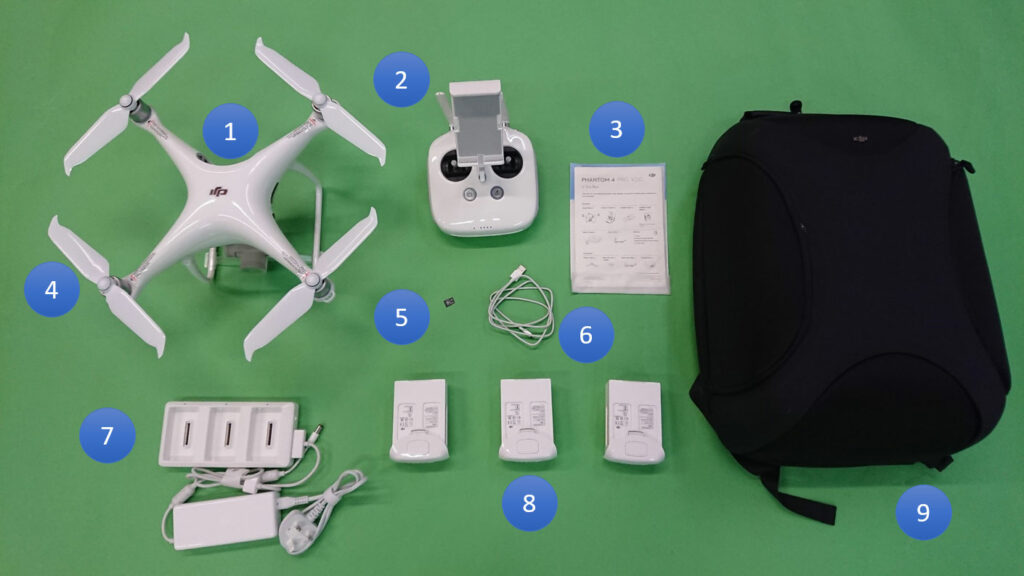 Enquiry and Assistance
Please contact our Library System Support at 2948 6661 or email libtech@eduhk.hk for details and assistance in advance.