Q44. Should the current pilot Library Food and Drinks Policy be changed in any way?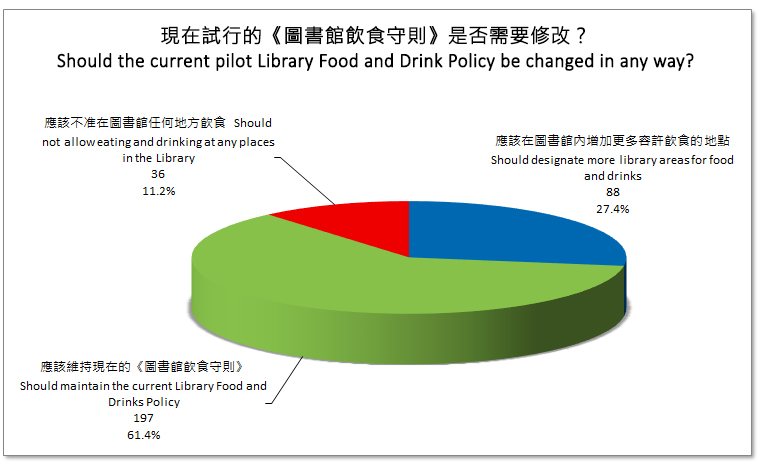 User's Comments
Library's Responses
– 允許將飲品帶入圖書館其他區域
– 可帶其他地方的食物進圖書館
– 咖啡機經常壞
– 饮食区的垃圾桶应及时清理
– 應增加可飲食的地方及可進食的種類
– 提供多些免費飲食資源
– 希望能夠開放一樓討論區飲食。group work經常需要3個鐘甚至以上,半路外出飲食會影響進度以及專注度。雖然G層飲食區可講話,但不便與進行比較激烈的討論,且位置較窄。相比館內討論區,C-LP的討論桌較為嘈雜,且操作電子設備無圖書館內討論區便利。
– 其他地方容許飲用清水為佳
– Quite a few of people eat/drink in other areas of the library. I once saw someone eat curry fish ball in the Study Carrels on 4/F. The smell filled the whole area which was disturbing.
– 建議圖書館飲食守則可作出修改,LG樓層可列作飲食範圍,該樓層可進食熱食。地下G/F樓層及7X24區域納入禁止飲食區,避免對其他學員造成騷擾,而其他樓層按照舊有守則,只可進食小型零食。
– 提供這樣的彈性給予圖書館使用者是非常好的做法,尤其是對於長時間在圖書館工作的學生,我衷心認為現在這政策幫了我很多。
– Perhaps there can be workstations at this designated area as well. Regardless, this was a very good move and has really motivated me to go to the library.
– 應該時不時有保安巡邏圖書館不能飲食的樓層。
– 我認為應在其他樓層的自修室也增加可飲食的地點。明白圖書館不能飲食的理由,但很多時候拿著很多資料、手提電腦等貴重物品時不方便離開。如其他樓層開通了可飲食,可規定飲食的種類,例如不能進食有汁、容易掉屑的食品,如有違反要進行登記,超過某次數後便禁止該學生在圖書館內飲食。
– 图书馆应增加随意饮食的惩罚力度,增加游走管理员,很多同学在图书馆偷食,喷洒的小碎屑,糖水,有没有人及时清理,给别人造成严重干扰和不便。
– 以乾淨、安靜為首開放更多容許飲食的地點
– Eating simple food, like bread, may be allowed especially when we are chasing time for assignment completion. I usually take bread at the library permitted area on ground floor.
While, little snacks, like chewing gum, candy can be permitted to refresh memory instead of going out or down to the canteen or library outside as it is rather time consuming and distraction to me indeed.
– 雖然實行圖書館飲食守則, 但不時仍有同學在樓上樓層飲食, e.g. 18:00後
– I really appreciate the lounge policy which allows students to eat in a certain area! Thanks. But it may need a very frequent clean up service otherwise may attract insects .
– Free coffee is nice, but the machine is often out of order or the quota has been used up.
– I think users can be allowed to eat some light snacks, such as sandwiches and biscuits. Since most of us spend much time in the library and much work is prepared, also with the booking, it is difficult and inconvenient for us to leave and go downstairs to eat something for just few minutes.
– 1/F 可以飲水以外的其他飲品
– 地下的咖啡機常常停機,有待改善
– 飲食區域能否禁止學生討論,能否增加桌椅數量
– The lobby area is too loosely managed. I often see students sleeping on the seats, chatting, eating and drinking rather than studying hard. Since the canteen is just one floor below the MMW Library, users can take a break outside the library instead.
– 希望:
Group discussion room可以食野
成個圖書館都可以飲水
– Its not a good way to have a vending machine at Lib. Only Drinks allowed would be perfect.
Comments noted with thanks.
Based on these comments and results of this survey (please see Q44), as well as taking reference to feedback to the Library via various channels over the past year, it is evident that although there are diverging opinions in relaxing and tightening of the Library Food and Drinks Policy, the majority view is to maintain the status quo. We therefore decided to maintain the current Library Food and Drinks Policy, and the decision has been endorsed by the Library Management Committee.
Q45. Have you ever used the vending machines installed at the Lounge on G/F of the Mong Man Wai Library?
Q46. Are you satisfied with the current choice of food and drink items provided by these vending machines?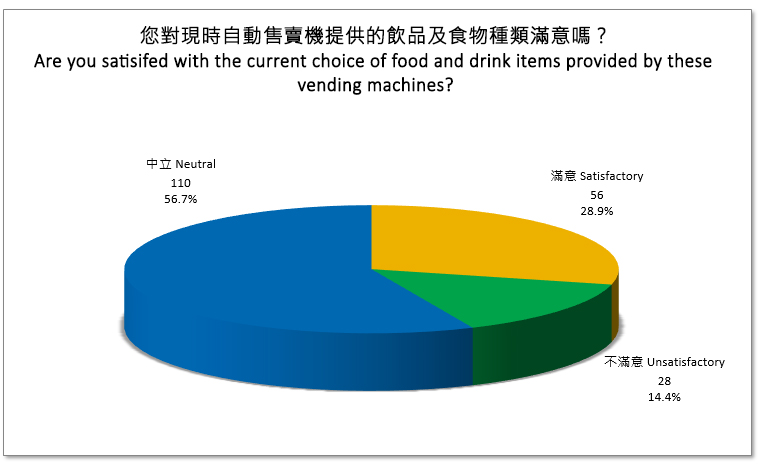 User's Comments
Library's Responses
– Need to be cheaper.
– 增加飲品種類
– There are simply snacks without neutrition.
– 希望增加维他柠檬茶的售卖机
– 希望咖啡能提供得更充足一点,谢谢。
– 太貴 跟本不需要這個價錢
– 價格偏貴。雀巢咖啡都比中大貴0.5HKD……
– 免費咖啡造成浪漫紙杯。
– 價錢太貴,總類太少。
咖啡機的飲品總類太少,份量太少,只得半杯。而且經常需要維修,十分失望
– 熱咖啡機啲咖啡經常售罄
食物機可以售賣朱古力條,更多類型的餅乾和小蛋糕。會光顧自動販賣機的人通常都是因為711已關門(晚上),肚子餓而教大四處又沒有可以買食物的地方。
– Library should not provide vending machines and drinks. Drinking water fountain is well enough for readers.
– 可以售賣較健康的小食,堅果乾果這些。
– There can be more energy food and drinks
– 禁止售卖更好,规范同学举止。垃圾零食不易于健康。学校可以在图书馆外售卖更多健康食品,增加收入没意见。
– CHERAPER!!!
– 種類較少。
– 可不可以賣麵包一類食物
– Too expensive
– 熱飲可以加多種類,熱朱古力(維他紙包飲品)都幾好,咖啡未必個個都飲
– 有熱飲
– 饮品很好。希望能有些不那麼上火熱氣的零食。
– I think the vending machines should be moved out of the library as there are many other channels for users to purchase their snacks.
– 1,可增設多一兩部售賣機
2,學生不宜擺佔座位太耐
– 不應該鼓勵圖書館內可飲食,校園可兵飲食的空間多的是
– 建議開放空間內的免費飲品機盡快增設咖啡以外的選項,例如阿華田、牛奶或朱古力。
Comments noted and will be followed up