Have a quick question? In addition to contacting us by email or by phone, you can now reach us using WhatsApp.
How to use
Send your WhatsApp message to us at 95149655 or start by clicking the button below.
Any Particular Restrictions?
There are no particular restrictions but this service is best suited for simple enquiries. For more in-depth enquiry, please call us at 2948 6653, email libinfo@eduhk.hk, use Ask a Librarian, or contact us in person at the Information Counter.
Our WhatsApp Service Hours
Monday – Friday (except public holidays): 9am – 5pm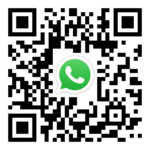 Notes:
–The service does not support voice messages.
–Please read EdUHK Library's Privacy Policy Statement and Personal Information Collection Statement before using the service.
---
Use Restriction of Directory Information
The contact information provided on this website is not intended for direct marketing activities as well as dissemination or circulation of unsolicited publicity or advertising material. Advertisers should not use the information to promote their products or services. The information should not be transferred for commercial gains either.